Under-Vine
From the very beginning, it was the vision of Thomas Fogarty Sr. that when the winery and 30 acre vineyard was developed, that the remaining 330 acres from his 360 acre estate would be set aside to remain in an open space preserve.
Geology
The Vineyards are a geologic story written in the rocks that underlay this portion of the Santa Cruz Mountains. The bedrock ranges in age from approximately 3 million to 30 million years old. The different bedrock formations include Lambert Shale, Mindego basalt and Purisima. Each vineyard is defined by its different geologic underpinnings that help to make up one facet of the overall terroir of Thomas Fogarty Winery.
Farming Practices
Our farming practices reflect the respect for the land, by respecting and working with the soils natural micro biological systems. We believe the most exciting wines come from vineyards with 'Living Soils', healthy soils, soils that will support healthy and balanced vines. Our farming is a distillation of what we have learned from organic, sustainable, and bio-dynamic practices, with a healthy touch of intuition. These practices have been honed and developed over our 35 years of farming Chardonnay and Pinot Noir in the very cool Northern Skyline subregion of the Santa Cruz Mountains. We nurture our 'Living Soils' and healthy vines by making use of cover-crop cultivations, creating a habitat for beneficial insects, we compost, and apply compost-teas.
Please click the sections below to view our vineyards.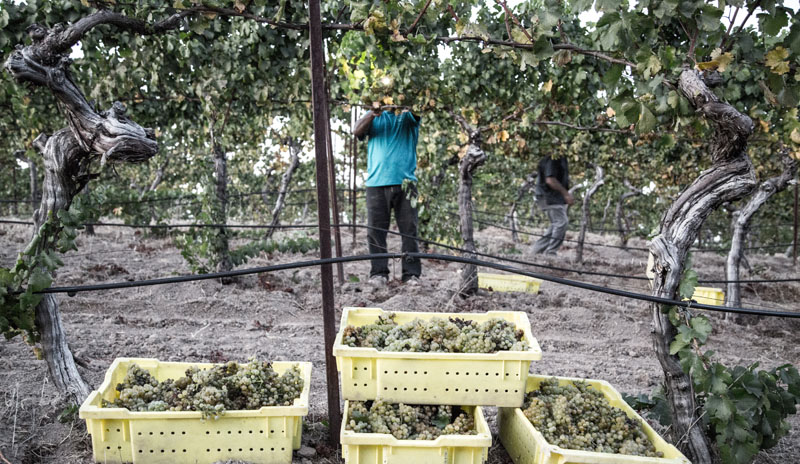 Albutom Vineyard

"This is a small vineyard and planted almost as an afterthought. We had already planted the big Chardonnay vineyards (Damiana and Langley Hill) and, I think, the one Pinot Noir vineyard at the top of the hill. Someone- it may have been Martella or one of the Varner brothers (Jim and Bob Varner) suggested we plant this half-acre too. I think maybe we were originally going to plant this to Pinot too, but in the end we planted Chardonnay. It got the name "Albutom" as in "All-but-Tom" because in those days we just had groups of friends over and had "planting parties" and I planned one to get this vineyard going. As I remember it, I was called in to the hospital the day of planting and couldn't be there. Someone, maybe more than one person, started the rumor that I had just skipped out to watch a ballgame on TV. It was a long time ago, so I can neither confirm or refute this story… The wine is amazingly distinct from the wine grown right next to it (Portola Springs Vineyard). It's very earthy and not quite as lean as the Portola Springs. We don't bottle it individually every vintage, but when we do we make about 40 cases."
-Dr Thomas Fogarty
Technical Notes
Year Planted: 1981
Elevation: 1930 ft.
Size: 0.33 acres
Exposure: Eastern, very steep
Soils: Lambert Shale
Clone: Clone 4
Rootstock: AxR1
Vine Spacing: 6′ vines x 10′ rows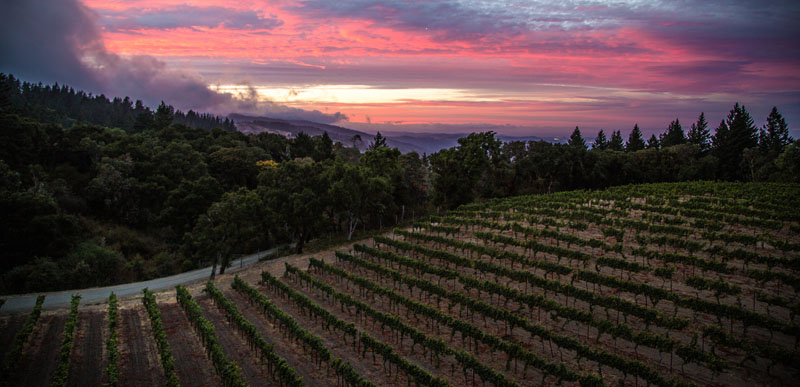 Damiana Vineyard
"This was the first Vineyard we planted. It made sense because there were no oaks or big trees to clear. I think we may have had to cut down a couple of small Madrone, and that's it. As it turned out, that is what sort of informed our planning for the whole twenty-eight acres. The vineyards are shaped like they are largely because it was easier to clear brush than to cut down a bunch of trees. And in those days we wouldn't even think of hiring a crew to chip tree trunks. If we cut a tree down we sectioned it and split the logs ourselves for firewood. It may be that the grass and greasewood (brush) areas were less fertile, rockier soils that wouldn't support much in the way of big trees, so we were doing ourselves a big favor, kind of unwittingly. Damiana Vineyard may have changed over the years, because building the pavilion and the big house above it changed the amount of wind it gets. It is more protected than it used to be, and it may get a little bit less afternoon sun. It gets a lot of morning sun, though, especially on the southeastern, downhill side. The vineyard definitely ripens at different times and needs a bunch of passes at harvest time. It probably makes the most conventionally "California" Chardonnay that we do, but it's still VERY "Santa Cruz" and very "Thomas Fogarty". It's got that mineral and slightly maritime character but it can be a bit juicier and tropical than, say, Portola Springs…"
– Dr. Thomas Fogarty
Technical Notes
Year Planted: 1978
Elevation: 1890 ft.
Size: 3.5 acres
Exposure: Southwestern, very steep
Soils: Lambert Shale, Mudstone
Clone: Clone 4
Rootstock: AxR1
Vine Spacing: 6′ vines x 11′ rows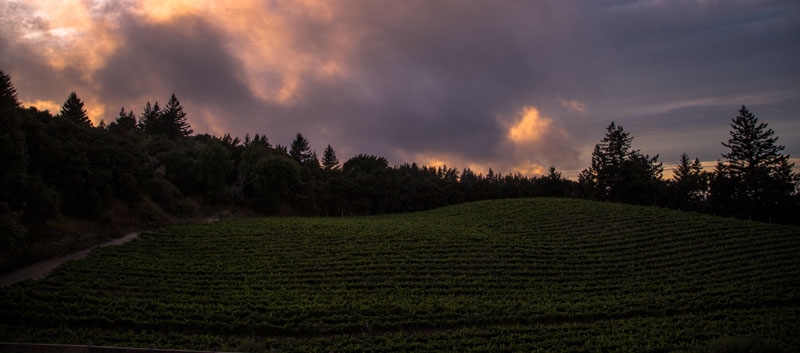 Langley Hill Vineyard

"This is actually called the "Metal Vineyard". It was the second vineyard my dad and his group planted, but it was right on the heels of Damiana, and this was the first one I was really involved in. I think I was ten or eleven when we cleared the field. Back then Damiana and Langley Hill were one big contiguous thicket of a native Chaparral we have here that we call "greasewood". Someone (I don't remember who) just took the old 1954 Caterpillar D-4 (we still have it and use it) and cleared the whole eight acres that became the two vineyards. When that was done Jim Beauregard (who at that time had a winery called "Felton Empire") and a crew surveyed the vineyards and marked where to put the end posts and stakes. At that age I was not too excited about getting up at 6am or whatever it was, but that is what my dad wanted me to do, so I did it. I can remember it being VERY cold in the mornings but it would warm up quickly. That leads me to believe it was in May or June. At first it was supposed to be my job to carry the metal stakes out and put them in the holes dug by the crew, but I didn't have gloves and they were heavy for a little kid. I really couldn't keep up. In the end it became my job to hold the stake straight while the crew drove the stakes into the ground. It was pretty humbling but a lot of fun. Thinking back it strikes me how "grass roots" everything was. It was a bunch of friends, many of whom were, or became, fixtures in the Santa Cruz Mountains viticulture community. Michael (Martella), my dad, Jim Beauregard… Jim and Bob Varner and Jeffrey Patterson were around at different times during planting too."
– Tom Fogarty, Jr.
Technical Notes
Year Planted: 1980
Elevation: 1925 ft.
Size: 5.25 acres
Exposure: Southeastern, steep
Soils: Lambert Shale
Clone: Clone 4
Rootstock: AxR1
Vine Spacing: 6′ vines x 10′ rows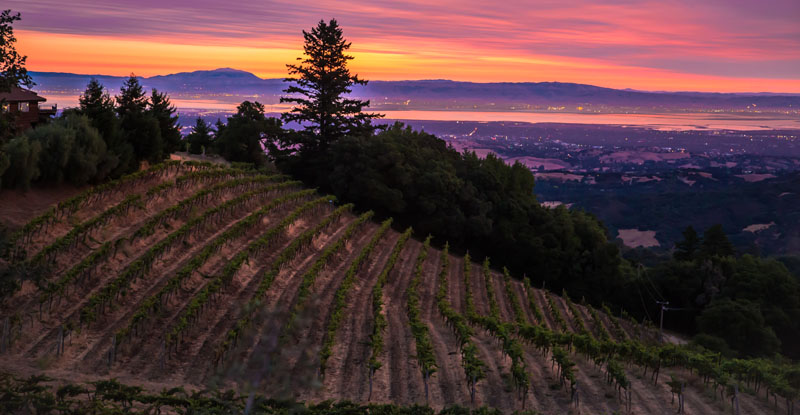 Portola Springs Vineyard
"The Portola Springs Vineyard is the most 'extreme' of our Chardonnay vineyards. It is very steep and funnels the cool marine air coming off the Pacific down it's slopes. Tractor driving here is a white-knuckle affair. It is nearly always the last of our Chardonnay to be picked, ripening very slowly. Yields are frustratingly low, yet the quality of the wine is always high enough to keep any thoughts of replanting on the back burner. There is a pretty significant swath of volcanics that run though this site, greatly influencing the vines and the resulting wines. The wine here is almost piercingly mineral, yet is balanced by an intense lemon-oil character."
– Nathan Kandler
Technical Notes
Year Planted: 1980
Elevation: 1920 ft.
Size: 2.5 acres
Exposure: Eastern, very, very steep
Soils: Lambert Shale, Basalt
Clone: Clone 4
Rootstock: AxR1
Vine Spacing: 6′ vines x 10′ rows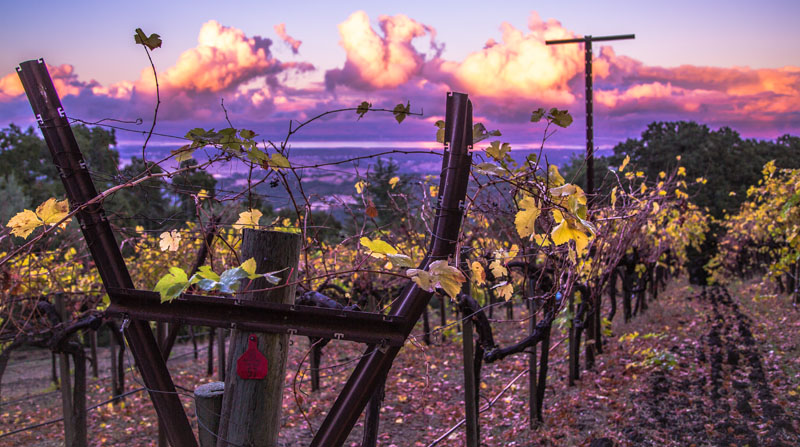 Rapley Trail Vineyard

"I try not to think about, or talk about, the wines or the vineyards in hierarchical terms, but honestly Rapley Trail is my favorite vineyard. It's the most complex vineyard in many ways and I think it produces some of the most complex and interesting wines we make. For one thing, the vineyard is a real geologic anomaly. The top of the vineyard is some of the darkest, richest soil we have and at the bottom it is just grey, lean, gravelly sandstone and shale. That is really unusual, as normally the rich soil is at the lowest point in a vineyard. Also, the whole vineyard is like a compound curve, like the canopy of an old airplane. There is almost every imaginable exposure and that, combined with the soil variation means that this vineyard is really several small vineyards and we farm it that way. We will typically harvest Rapley Trail four or more times a season and we keep the fruit separated and make four different wines from Rapley. Some of the fruit (mostly the top) goes into our appellation Pinot Noir, the middle and bottom will go into the Rapley Trail Single Vineyard wine, while small subsections of the bottom third will go into the Block Bottlings, "Henry Ayrton's Block" (so named because my first child was born the day we harvested the block in 2011) and "M Block" (as of 2013 Vintage, name changed to "James Thomas Block") . It's a fascinating vineyard that produces really amazing wines. While all the wines of Rapley are distinct from one another, there is a common thread among them- a kind of exotic, spicy aroma – almost incense-like; very intense and intoxicating but delicate too. It is definitely my favorite vineyard."
– Tom Fogarty, Jr.
Technical Notes
Year Planted: 1983
Elevation: Avg 1650 ft.
Size: 6 acres
Exposure: Southeastern, very steep
Soils:Lambert Shale
Clone: Martini
Rootstock: AxR1
Vine Spacing: 6′ vines x 10′ rows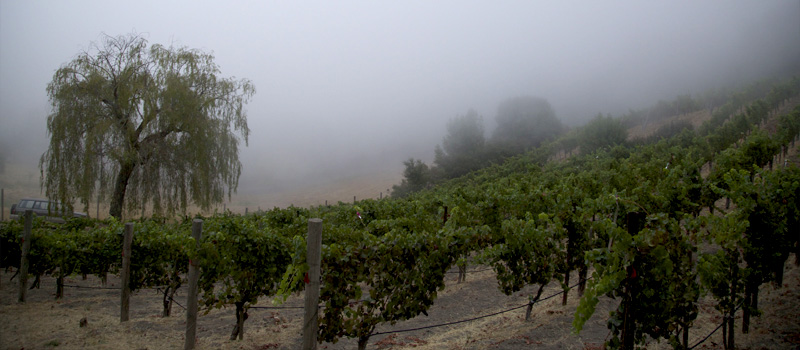 Razorback Vineyard:
"The Razorback Vineyard is the lowest elevation vineyard at the Winery Estate (1300-1400 ft.). It sits above the Corte Madera Creek and the upper stretch of Alpine Rd. on an east facing slope. It is the most isolated site we farm here and is a good 5-10 minute drive from the winery on a bumpy mountain road – really classic Santa Cruz Mountains stuff! The vines sit in the fog in the mornings, so the growing days are a little shorter and cooler if the marine layer is thick. We have found fossils of mussels and clams as well as veins of volcanic ash in the soils nearby. The wines from the vineyard have a really perfumed and red fruited character. There is also no power here so the vines are dry farmed. The vineyard was originally planted to Chardonnay, in 2006 it was grafted to Pinot Noir. Razorback is the only vineyard planted with Dijon Clones that we farm, though there is a good chunk of the Swan selection. David Gates, from our neighbor Ridge Vineyards, has a great grafting crew and they did the work to switch the vineyard over to Pinot. They indicated which clones were grafted where by writing the name on nursery tape at each end post. We never figured out a more permanent situation and the nursery tape faded with the weather, essentially washing away any identification. Ultimately we aren't sure exactly where each clone is in the vineyard! In some ways this has been a godsend as we treat the vineyard as a 'massale' selection and co-ferment the vineyard as a whole; more popular today are mono-clonal harvests. We think this makes this a very special and unique wine."
– Nathan Kandler
Technical Notes
Year Planted: 1986
Elevation: 1400 ft.
Size: 2 acres
Exposure: East to North-East, steep
Soils: Purisima
Clone: Swan, 115, 667, 777
Rootstock: AxR1
Vine Spacing: 6′ vines x 10′ rows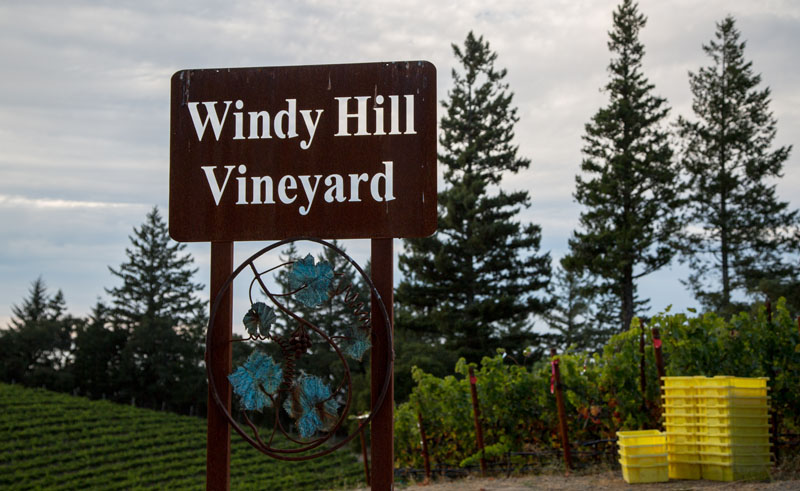 Windy Hill Vineyard
"The Windy Hill Vineyard occupies one of the most dramatic sites at the Fogarty Estate. Shallow, rocky soils and a direct line to the maritime air make this an incredibly compelling place to grow Pinot Noir. The original vineyard had a really tough row orientation that was perpendicular to the coastal weather, the vines ran across the hill. I first encouraged Michael to set aside a small bottling of Windy Hill from the 2007 vintage due to the unique nature of the fruit and spice elements of the wine. I had never tasted a domestic Pinot Noir with such an exotic profile and was inspired to develop a single vineyard bottling from our highest elevation site. Unfortunately the old-vines began to fail, likely due to vineyard layout, and re-planting became the obvious choice after the farewell 2010 vintage. We changed the orientation as well as the vine density and even had some room set aside for our solar array. In the summer of 2012 we completed the re-plant with a mix of heritage selections of Pinot Noir on meter by six foot spacing."
– Nathan Kandler
Technical Notes
Year Planted: 2012
Elevation: 1970 ft.
Size: 2 acres
Exposure: Western, steep
Soils: Lambert Shale
Clone: Calera, Mt. Eden and Swan
Rootstock: 420A
Vine Spacing: 3.5′ vines x 6′ rows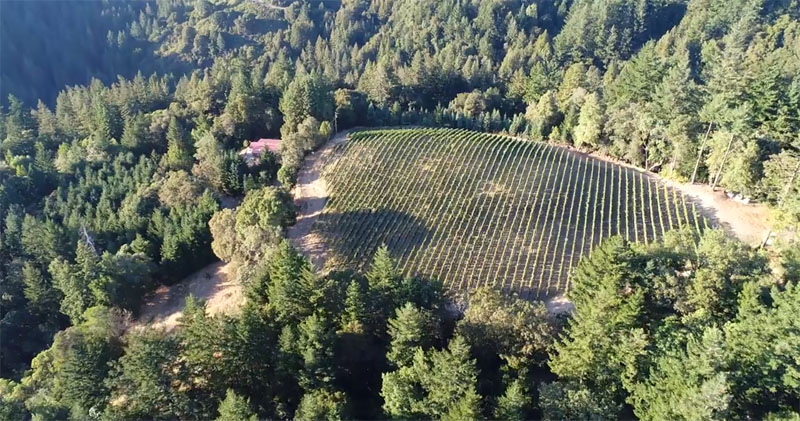 Will's Cabin Vineyard
"The vineyard is less than half a mile from the "Gist Ranch" vineyard which grows Cabernet Sauvignon, Merlot and Cabernet Franc, and the soil is very similar- a very light, fine dirt known as "Vaquero Sandstone". Will's Cabin vineyard, though, is north-facing and much cooler than the neighboring vineyard and therefore much more suitable for Pinot Noir. We have Swan and Mt Eden clones there, which are widely used clones, but we also have a clone called "Mariafeld", which originated in Switzerland and tends to add a little tannin and darken the color of the wine- the Mariafeld is used, mostly, in the Santa Cruz Mountain Appellation wine.
We have only been making a Single-Vineyard Pinot Noir from this vineyard since 2012, and it's been very well received. The Single-Vineyard Will's Cabin Pinot Noir tends to have very red-fruit aromatics (think cranberry, cherry and grapefruit). The spice aromas tend to be a little more subtle than those in our other Single-Vineyard Pinot Noir wines. Flavors are luscious and rich (though the alcohol is usually well under 14%) with finer tannins and a gentle, fading finish. This wine, like the Pinot Noir from "Razorback" tends to be more open and integrated at a younger age than the wines from the Rapley Trail and Windy Hill vineyards. We make very little of the Will's Cabin Vineyard Pinot Noir and it is usually only available direct from the winery, although we've sold it to a few restaurants on special request."
– Thomas Fogarty, Jr.
Technical Notes
Elevation: 2250-2300 ft.
Size: 3 acres
Exposure: Northwest
Soils: Heavily Fractured, Vaqueros Sandstone
Clone: Swan, Mt Eden
Rootstock: 3309
Vine Spacing: 4′ vines x 7′ rows